Open Monday through Saturday open 9:00 am - 6:00 pm   
Sundays  10:00 am - 5:00 pm
Labor Day hours   10:00 - 5:00 pm
Give us a call at 207-747-4232    
      We will make recommendations especially for your taste. Books & Journals that are fresh and unique. 
      Distinctive greeting cards, puzzles & Maine-Made gift items in a family-owned store.  Please feel free to browse the new & used books on our shelves.
We are glad to order books - these come very quickly. Your gift books can be mailed directly.
Would you like to receive our weekly newsletter?
Sign up on our "Contact Us" page.
******************************************************************
Indie Bob posted this review on his blog, after he visited Letterpress Books!
He travels America, evaluating independent bookstores & reporting his findings.
Thank you, Bob!
Click here to read his blog:
https://theindiebobspot.blogspot.com/2019/08/letterpress-books-portland-me.html?spref=fb&fbclid=IwAR1zExsRaJLRZowz0ch2KuT8Uu5oAyhsexgRFvrIG-LfARZZjVaAHgprTOE
NEW NON-FICTION!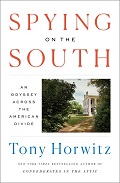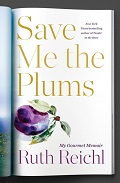 Spying on the South, history by Tony Horwitz
In the 1850s, young Frederick Olmsted was a dreamer in search of a mission. He found it during an extraordinary journey as an undercover correspondent for the up-and-coming New York Times. For the Yankee, the South was an alien, often hostile territory. Yet Olmsted traveled by horseback, steamboat, & stagecoach, seeking dialogue and common ground. His vivid dispatches about the lives and beliefs of Southerners were revelatory for readers. His remarkable trek reshaped the American landscape, as Olmsted sought to create democratic spaces for the uplift of all, as the landscape architect of Central Park.

Tony Horwitz rediscovers Olmsted amidst the discord of our own time. Is America still one country? In search of answers, Horwitz follows Olmsted's tracks and often his mode of transport (including muleback): through Appalachia, down the Mississippi River, into bayou Louisiana, and across Texas to the contested Mexican borderland.
Kingdom of Lies: Unnerving Adventures in the World of Cybercrime, by Kate Fazzini
Shocking behind-the-scenes data on how smoothly criminal hackers slip into big business investments and the bank accounts of the very wealthy. Their crimes are worth millions and even billions of dollars. And meet the women who protect businesses from the slime.
And Caroline: tiny, smart, well-educated and clever enough to build large teams of "dragons" who are cybersecurity professionals
Rene, without formal education but whose talents are acute perception, street smarts, & her ability to talk to anyone.
NEW STAFF FAVORITES!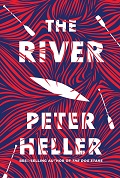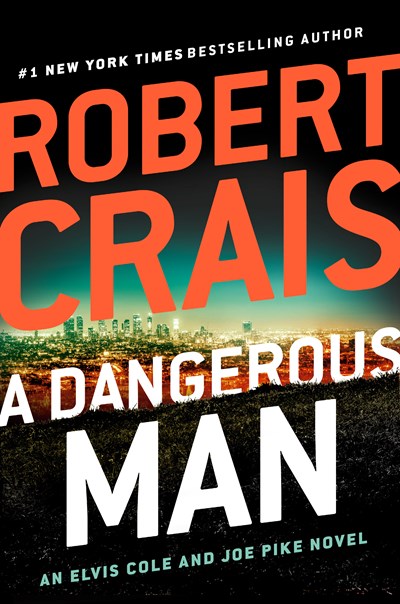 The River, a mystery by Peter Heller
Two college students on a wilderness canoe trip—a gripping tale of a friendship tested by fire, white water, and violence.

Wynn and Jack have been best friends since freshman year, with a shared love of mountains, books, and fishing. Wynn is a gentle giant, a Vermont kid never happier than when his feet are in the water. Jack is more rugged, raised on a ranch in Colorado where sleeping under the stars & cooking on a fire came as naturally to him as breathing. When they decide to canoe the Maskwa River in northern Canada, they anticipate long days of paddling, picking blueberries, nights of stargazing and reading paperback Westerns. But a fast-moving wildfire adds unexpected urgency to the journey. When they hear a man and woman arguing on the fog-shrouded riverbank and decide to warn them about the fire, their search for the pair turns up nothing and no one. But: The next day a man appears on the river, paddling alone. Is this the man they heard? And, if he is, where is the woman? From this charged beginning, Heller unspools a heart-pounding story of desperate wilderness survival.
Satapur Moonstone, by Sujata Massey
Bombay, India, 1922: It is rainy season in the remote princely state of Satapur.  This is the mystery of the trials of female attorney, Perveen Mistry, with danger on all sides, in the jungle, from the family, and within the compound where she is working to resolve the many problems. 
The maharaja died of a sudden illness; then his young son was attacked in a hunting accident. The state is now ruled by an agent of the British Raj on behalf of the dowager queen & her daughter-in-law. The royal ladies are in a dispute over the education of the young crown prince, and a lawyer's counsel is required. However, the maharanis live in purdah and do not speak to men. Just one person can help them: Perveen is determined to bring peace to the royal house but too late, she realizes she has walked into a trap. How can she protect the royal children from a deadly curse?
A Dangerous Man, a thriller by Robert Crais
Joe Pike's most perilous case to date:  Joe didn't expect to rescue a woman that day. He went to the bank same as anyone goes to the bank, and returned to his Jeep. So when Isabel Roland, the lonely young teller who helped him, steps out of the bank on her way to lunch, Joe is on hand when two men abduct her. Joe chases them down, and the men are arrested. But instead of putting the drama to bed, the arrests are only the beginning of trouble for Joe & Izzy.

After posting bail, the two abductors are murdered and Izzy disappears. Pike calls on his partner, Elvis Cole, to help learn the truth. What Elvis uncovers is a twisted family story that involves corporate whistleblowing, huge amounts of cash, the Witness Relocation Program, and a long line of lies. But what of all that did Izzy know? Is she a perpetrator or a victim? And how far will Joe go to find out?
HIGHLY RECOMMENDED STAFF PICKS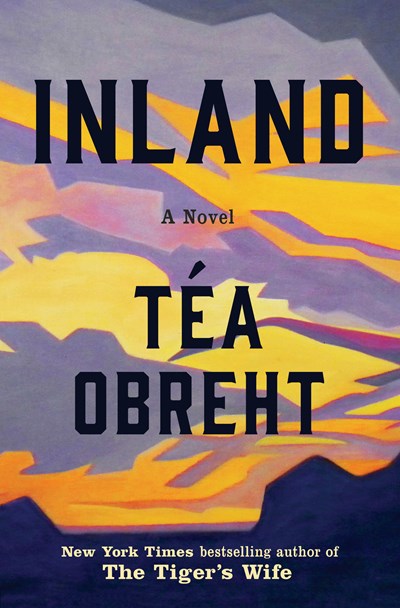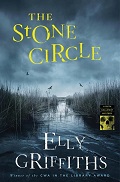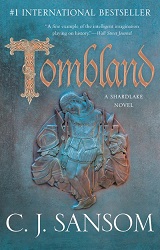 Inland, a historical novel by Téa Obreht 
1893: In the lawless, drought-ridden lands of the Arizona Territory, two extraordinary lives collide. Nora is an unflinching frontierswoman awaiting the return of the men in her life—her husband, a newspaperman, who has gone in search of water for the parched household, and her elder sons who have vanished after an explosive argument. Nora is biding her time with her young son, who is convinced a mysterious beast is stalking the land around their home, and her 17-year-old cousin, who communes with spirits.

Lurie is a former outlaw - a man haunted by ghosts. He sees lost souls who want something from him, and he finds reprieve in an unexpected relationship that inspires an expedition across the West. The way in which Nora and Lurie's stories intertwine is the suspense of this brilliant novel. Mythical, lyrical, and sweeping in scope, grounded in true but little-known history.
Underland, a Deep Time Journey,  Nature by Robert Macfarlane
Global in its geography and written with great lyricism and power, Underland speaks powerfully to our present moment. Taking a deep-time view of our planet, Macfarlane here asks a vital and unsettling question: "Are we being good ancestors to the future Earth?" This book marks long-term mapping of the relations of landscape and the human heart. From its remarkable opening pages to its deeply moving conclusion, it is a journey into wonder, loss, fear, and hope. At once ancient and urgent, it that will change the way you see the world.
Traveling from prehistoric art of Norwegian sea caves to the blue depths of the Greenland ice cap, from Bronze Age funeral chambers to the catacombs below Paris, and from the underground fungal networks whereby trees communicate, to a deep-sunk hiding place where nuclear waste will be stored for 100,000 years to come. These are unforgettable stories of descent into the underland made across history by explorers, artists, cavers, divers, mourners, dreamers, and murderers.
Stone Circle, a mystery by Elly Griffiths
A new chilling entry to the Ruth Galloway series, she and DCI Nelson are haunted by a ghost from their past, just as their future lands on shaky ground.

Nelson has been receiving anonymous threatening letters. They are reminiscent of ones he received in the past, from the person who drew him into a case that's haunted him for years. At the same time, Ruth receives a letter purporting to be from that very same person—her former mentor, and the reason she first started working with Nelson. But the author of those letters is dead… or is he?
The past is reaching out for Ruth and Nelson, and its grip is deadly.
Tombland, a Matthew Shardlake mystery, by CJ Sansom
Magnificent!  These 800 pages are all needed for Sansom to tell the story fully. It's another fascinating pageturner. The historical notes are an added bonus.
A new CJ Sansom novel is always worth the wait. His writing and research are excellent, as are his characters and choice of historical events. You are transported to Tudor England. I've always enjoyed that he doesn't focus solely on the nobility, but gives us a glimpse of all levels of Tudor society.
Book Woman of Troublesome Creek, by Kim Michele Richardson
Cussy Mary Carter is the last of her kind, her skin the color of a blue damselfly, whose father is a coal miner, trying to marry her off for her own safety – with disastrous consequences. As a member of the Pack Horse Library Project, Cussy delivers books to the hill folk of Troublesome, hoping to spread learning in these desperate times. But not everyone is so keen on Cussy's family or the Library Project, and many Kentuckians are quick to blame a Blue for any trouble in their small town. This is a story of raw courage, fierce strength, and one woman's determination to bring a little bit of hope to the Appalachians.
John Paul's Recommendations: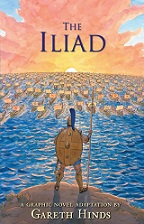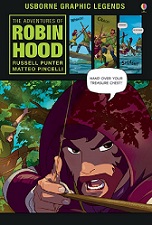 The Iliad, Gareth Hinds adapts Homer's classic wartime epic.

3000 years ago, two armies fought an epic battle that came to be known as the Trojan War. Homer's legendary account of this 9-year ordeal, is considered the greatest war story of all time. In this stunning graphic novel — renowned illustrator Gareth Hinds captures all the grim glory of Homer's epic. Dynamic illustrations take us to the plains of Troy, into battle, and bare the complex emotions of the men, women, and gods whose struggles fueled the war. This volume has notes, maps, and a cast of characters to help readers understand all the action and drama of the tale.
Adventures of Robin Hood, by Russell Punter
England 1194: The poor folk of Nottingham find themselves at the mercy of the heartless money-grabbing Sheriff. But deep in Sherwood Forest, rebellion is brewing. Join brave Robin Hood and his band of daring friends as they pit their wits against the Sheriff and his ruthless ally, Guy of Gisbourne. Swashbuckling thrills come thick and fast in this adventure story. These new graphic novels provide a gateway to somewhat difficult stories for reluctant readers to learn to enjoy. Specifically designed to be easily readable, with familiar vocabulary and sentence structure, these stories are entertaining with fun, action-packed illustrations sweeping us into an imaginary universe.
Scales & Scoundrels: Into the Dragon's Maw   Vol. 1, by Sebastian Girner
It's hard to make an honest living in a land brimming with magic & mystery, and treasure hunter Luvander is tired of being a penniless adventurer. Ever in search of gold and glory, she sets off for a fabled dungeon "the Dragon's Maw", an ancient tomb at the bottom of which slumber endless wealth or certain doom!

Luvander teams up with a team of scraggly hunters, each seeking treasure. Prince Aki, of the Scarlet Sands Empire, anxious yet blind to the consequences. His royal Shadow and bodyguard, Koro, whose very honor hangs in the balance of her prince's success. And Dorma Iron, a stocky young dwarf whose journey will take her deeper into darkness than she ever wished to tread. For these scruffy heroes, what starts out as a road to riches becomes the first step on a journey to destiny, for Luvander holds a secret that will bring light to a world encroached upon by an ancient darkness.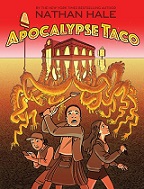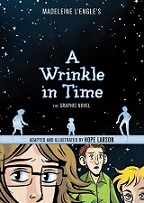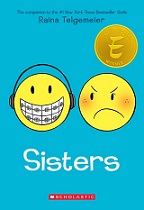 Apocalypse Taco, a graphic novel by Nathan Hale
A sinister drive-through threatens to end the world, and 3 kids in a beat-up truck are humanity's only hope!  The school theater troupe is working late and Sid makes a fast trip to get tacos. But strange things are happening: the world is not quite right. The food is moving; cars, buildings and people are behaving weirdly. They have to use their wits to save the day.
A Wrinkle in Time (Graphic Novel) by Madeleine L'Engles   
This early '60s Science Fiction for kids is still going strong.  Expanded into a graphic novel, you can experience the grand story of little Meg and her family as she tries to understand where her father has disappeared to.   (came before the movie) - John Paul
Sisters (Graphic Novel) by Raina Telgemeier   
Raina can't wait to be a big sister. But once Amara is born, things aren't quite how she expected them to be. Amara is cute, but she's also a cranky, grouchy baby, and mostly prefers to play by herself. Their relationship doesn't improve much over the years, but when a baby brother enters the picture and later, something doesn't seem right between their parents, they realize they must figure out how to get along. They are sisters, after all.
A memoir dedicated to her sister, Raina's family life in visual form is like watching an old TV sitcom; comforting, familiar and light.     - John Paul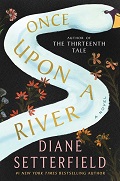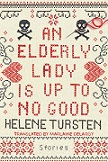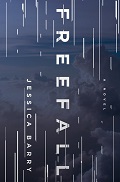 Kath's Recommendations:

Once Upon a River, by Diane Setterfield

"I loved this book. When I finished it, I just wanted to hug it. Setterfield gives us characters we love and an atmospheric setting for her wonderful tale.  And the dialogue: you can hear the accents without the use of dialect. Just marvelous writing.  My favorite book of the year." - Kath
This is magical, bewitching storytelling...high prose expressed with rare clarity with a kind of moral dreaminess…  a powerful novel about the wrenching disappearance of 3 little girls and the wide-reaching effect it has on their small town. On a dark midwinter's night in an ancient inn on the river Thames, an extraordinary event takes place. The regulars are telling stories when the door bursts open on a grievously wounded stranger. In his arms is the lifeless body of a small child. Hours later, the girl stirs, takes a breath and returns to life. Is it a miracle? Is it magic? Or can science give an explanation? These questions have many answers, some of them quite dark indeed.
Elderly Lady is Up to No Good, by Helene Tursten
Maud is an irascible 88-year-old Swedish woman with no family, no friends, and…no qualms about murder. These funny, irreverent short stories will keep you laughing all the way to the retirement home.

Ever since her father's death when she was 18, Maud has lived in the family's spacious apartment rent-free, thanks to a contract loophole. That was how Maud learned that good things can come from tragedy. Now Maud contents herself with traveling the world and surfing the net from the comfort of her father's ancient armchair. It's a solitary existence and she likes it that way.

Over the course of her adventures, this bold lady will handle a crisis with a celebrity who has her eyes on Maud's apartment, foil the engagement of her long-ago lover, and dispose of some pesky neighbors. But when the local authorities find a dead body in Maud's apartment, will she finally become a suspect? 
Freefall, a mystery by Jessica Barry
Excellent Hitchcockian storyline with surprising character development. We should introduce Allyson to Jack Reacher - they would make a terrific pair!
In the small community of Owl Creek, Maine, Maggie Carpenter learns her only child is presumed dead. But authorities have not recovered her body—giving Maggie a shred of hope. She, too, harbors a shameful secret: she hasn't communicated with her daughter in two years, since a family tragedy drove Allison away. Maggie doesn't know anything about her daughter's life now—not even that she was engaged to wealthy pharmaceutical CEO Ben Gardner, or why she was on a private plane.
When her fiancé's private plane crashes in the Colorado Rockies, Allison Carpenter miraculously survives. But the fight for her life is just beginning. Allison has been living with a terrible secret, a shocking truth that powerful men will kill to keep buried. If they know she's alive, they will come for her.  
Karen's Recommendations: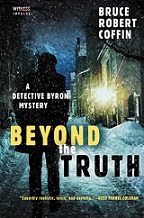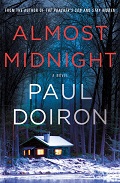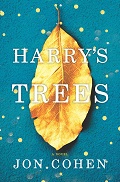 Beyond the Truth, a Detective Byron mystery by Bruce Robert Coffin
     This 3rd book by retired Detective Sergeant Coffin, is a powerful good read. The story takes place here in Portland, with engrossing detail on the police investigation, uncovering layers of crime: robbery, drug dealing, and the shooting of a teenage basketball star.  When an attempt is made on life of the police officer who shot him, Byron shifts into overdrive. Was the attack merely retribution or something more sinister? Stir in the twisted political issues and you have a recipe for intrigue!
Almost Midnight, a Maine Game Warden mystery by Paul Doiron
This newest thriller has a chilling start with Mike Bowditch's good friend involved with murders in the Maine State Prison and the news that Shadow, the wolf-dog Mike cared for when he was a pup, was shot with a cross-bow bolt. With fine description of the natural beauty of the Maine woods.The death of Maine's last wild wolf leads Bowditch to a criminal conspiracy. The warden already has a troubling mystery on his hands: finding the archer who mortally wounded Shadow. Then he learns his best friend, Billy Cronk, has been released from prison after heroically defending a female guard from a stabbing. When the conspirators pursue Billy's wife and children to a "safe" cabin in the woods, Mike rushes to their defense only to find himself outnumbered, outgunned—and maybe out of options.
I love these Maine game warden mysteries. Doiron gives us plenty to enjoy with his descriptions of the natural beauty of the Maine woods, and the cleverness, kindness & trust of Mike's friends and co-workers.
Harry's Trees: A Novel by Jon Cohen     

A govt office worker who lost his wife.  An ER nurse whose husband died.  A little girl who sees magic everywhere.  This is a tale of love and loss.  It's funny, spiritual and thoroughly enchanting.  Just what we need in these turbulent times.
Compare to AJ Fikery and A Man Called Ove.
******************************************************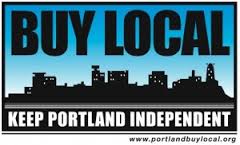 "Put down the mouse and shop near your house!"
Thanks again for your enthusiastic welcome. Every day our customers tell us they prefer to BUY LOCAL so thank you for supporting your neighborhood bookstore. Word of mouth recommendations for Letterpress helps us to expand and continue to serve your community. 

Letterpress Books is family owned, a member of the American Booksellers Assoc., & Portland Buy Local. 

"A mind needs books as a sword needs a whetstone, if it is to keep its edge."   George R.R. Martin
We appreciate your business!

Kath, Karen & John Paul