Open Monday through Saturday open 9:00 am - 6:00 pm   
Sundays  10:00 am - 5:00 pm 
Give us a call at 207-747-4232  or 207-747-4990

91 Auburn St., Suite K, Portland, ME 04103 

We will make recommendations especially for your taste. Books & Journals that are fresh and unique. Distinctive greeting cards, puzzles & Maine-Made gift items in a family-owned store.  Please feel free to browse the new & used books on our shelves.
We are glad to order books - these come very quickly. Your gift books can be mailed directly.
Would you like to receive our weekly newsletter?
Sign up on our "Contact Us" page.
******************************************************************
HIGHLY RECOMMENDED STAFF PICKS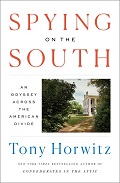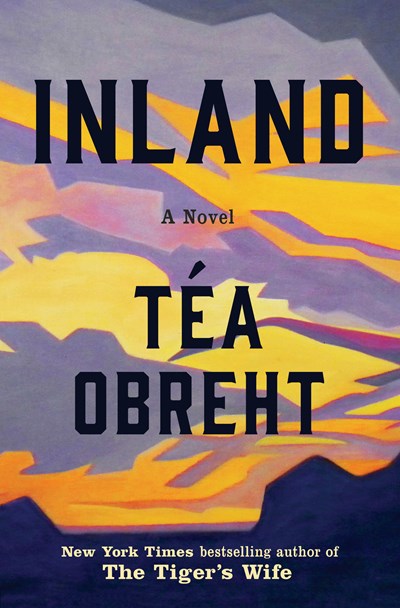 Inland, a historical novel by Téa Obreht 
Signed 1st editions   $27.00   isbn 9780812992861
1893: In the lawless, drought-ridden lands of the Arizona Territory, two extraordinary lives collide. Nora is an unflinching frontierswoman awaiting the return of the men in her life—her husband, a newspaperman, who has gone in search of water for the parched household, and her elder sons who have vanished after an explosive argument. Nora is biding her time with her young son, who is convinced a mysterious beast is stalking the land around their home, and her 17-year-old cousin, who communes with spirits. Mythical, lyrical, and sweeping in scope, grounded in true but little-known history.
"I loved this astonishing novel. It's the sort that is so well done and unique, that you feel a little stunned for a few days after finishing it. Obreht has also inspired me to learn more about the Southwest's history and, even more so, its mythology." - Kath
Spying on the South, history by Tony Horwitz 
$30.00  isbn 9781101980286

In the 1850s, young Frederick Olmsted was a dreamer in search of a mission. He found it during an extraordinary journey as an undercover correspondent for the up-and-coming New York Times. For the Yankee, the South was an alien, often hostile territory. Yet Olmsted traveled by horseback, steamboat, & stagecoach, seeking dialogue and common ground. His vivid dispatches about the lives and beliefs of Southerners were revelatory for readers. His remarkable trek reshaped the American landscape, as Olmsted sought to create democratic spaces for the uplift of all, as the landscape architect of Central Park.

Tony Horwitz rediscovers Olmsted amidst the discord of our own time. Is America still one country? In search of answers, Horwitz follows Olmsted's tracks and often his mode of transport (including muleback): through Appalachia, down the Mississippi River, into bayou Louisiana, and across Texas to the contested Mexican borderland.
Kingdom of Lies: Unnerving Adventures in the World of Cybercrime, by Kate Fazzini    $28.99   isbn 9781250201348

Shocking behind-the-scenes data on how smoothly criminal hackers slip into big business investments and the bank accounts of the very wealthy. Their crimes are worth millions and even billions of dollars. And meet the women who protect businesses from the slime.
And Caroline: tiny, smart, well-educated and clever enough to build large teams of "dragons" who are cybersecurity professionals
Rene, without formal education but whose talents are acute perception, street smarts, & her ability to talk to anyone.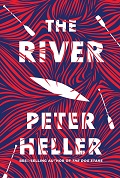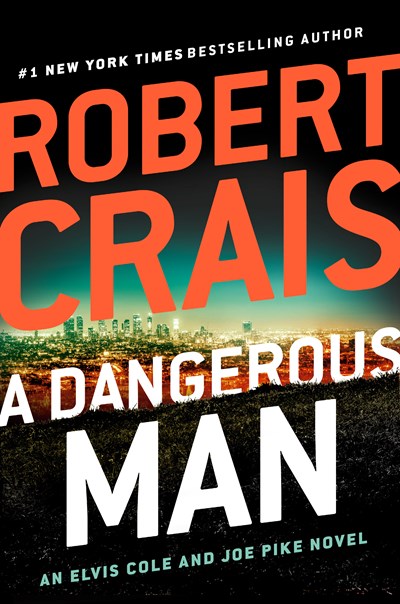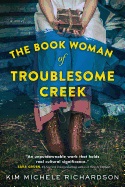 The River, a mystery by Peter Heller   $25.95  isbn 9780525521877

Two college students on a wilderness canoe trip—a gripping tale of a friendship tested by fire, white water, and violence.

Wynn and Jack have been best friends since freshman year, with a shared love of mountains, books, and fishing. Wynn is a gentle giant, a Vermont kid never happier than when his feet are in the water. Jack is more rugged, raised on a ranch in Colorado where sleeping under the stars & cooking on a fire came as naturally to him as breathing. When they decide to canoe the Maskwa River in northern Canada, they anticipate long days of paddling, picking blueberries, nights of stargazing and reading paperback Westerns. But a fast-moving wildfire adds unexpected urgency to the journey. When they hear a man and woman arguing on the fog-shrouded riverbank and decide to warn them about the fire, their search for the pair turns up nothing and no one. But: The next day a man appears on the river, paddling alone. Is this the man they heard? And, if he is, where is the woman? From this charged beginning, Heller unspools a heart-pounding story of desperate wilderness survival.
A Dangerous Man, a thriller by Robert Crais 
$28.00  isbn 9780525535683

Joe Pike's most perilous case to date:  Joe didn't expect to rescue a woman that day. He went to the bank same as anyone goes to the bank, and returned to his Jeep. So when Isabel Roland, the lonely young teller who helped him, steps out of the bank on her way to lunch, Joe is on hand when two men abduct her. Joe chases them down, and the men are arrested. But instead of putting the drama to bed, the arrests are only the beginning of trouble for Joe & Izzy.

After posting bail, the two abductors are murdered and Izzy disappears. Pike calls on his partner, Elvis Cole, to help learn the truth. What Elvis uncovers is a twisted family story that involves corporate whistleblowing, huge amounts of cash, the Witness Relocation Program, and a long line of lies. But what of all that did Izzy know? Is she a perpetrator or a victim? And how far will Joe go to find out?
The Bookwoman of Troublesome Creek, by Kim Michelle Richardson      $15.99    isbn  9781492671527
Amazing historical novel of the women and men who delivered library books on horseback to remote mountain notches in the Appalachian mountains of Kentucky. Cussy Mary Carter is the last of the Blue People, whose father is a coal miner, trying to marry her off for her own safety – with disastrous consequences. This fascinating story gives us a very personal look at white prejudice and into the lives of these isolated people struggling to survive.
Once Upon a River, by Diane Setterfield 
$17.00  isbn 9780743298087

When I finished it, I just wanted to hug it. Setterfield gives us characters we love and an atmospheric setting for her wonderful tale.  And the dialogue: you can hear the accents without the use of dialect. Just marvelous writing.  My favorite book of the year." - Kath
This is magical, bewitching storytelling...high prose expressed with rare clarity with a kind of moral dreaminess…  a powerful novel about the wrenching disappearance of 3 little girls and the wide-reaching effect it has on their small town. On a dark midwinter's night in an ancient inn on the river Thames, an extraordinary event takes place. The regulars are telling stories when the door bursts open on a grievously wounded stranger. In his arms is the lifeless body of a small child. Hours later, the girl stirs, takes a breath and returns to life. Is it a miracle? Is it magic? Or can science give an explanation? These questions have many answers, some of them quite dark indeed.
Elderly Lady is Up to No Good, by Helene Tursten   $12.99
isbn 9781641290111

Maud is an irascible 88-year-old Swedish woman with no family, no friends, and…no qualms about murder. These funny, irreverent short stories will keep you laughing all the way to the retirement home.

Ever since her father's death when she was 18, Maud has lived in the family's spacious apartment rent-free, thanks to a contract loophole. That was how Maud learned that good things can come from tragedy. Now Maud contents herself with traveling the world and surfing the net from the comfort of her father's ancient armchair. It's a solitary existence and she likes it that way.

Over the course of her adventures, this bold lady will handle a crisis with a celebrity who has her eyes on Maud's apartment, foil the engagement of her long-ago lover, and dispose of some pesky neighbors. But when the local authorities find a dead body in Maud's apartment, will she finally become a suspect? 
Freefall, a mystery by Jessica Barry  $27.99  isbn 9780062874832

Excellent Hitchcockian storyline with surprising character development. We should introduce Allyson to Jack Reacher - they would make a terrific pair!
In the small community of Owl Creek, Maine, Maggie Carpenter learns her only child is presumed dead. But authorities have not recovered her body—giving Maggie a shred of hope. She, too, harbors a shameful secret: she hasn't communicated with her daughter in two years, since a family tragedy drove Allison away. Maggie doesn't know anything about her daughter's life now—not even that she was engaged to wealthy pharmaceutical CEO Ben Gardner, or why she was on a private plane.
When her fiancé's private plane crashes in the Colorado Rockies, Allison Carpenter miraculously survives. But the fight for her life is just beginning. Allison has been living with a terrible secret, a shocking truth that powerful men will kill to keep buried. If they know she's alive, they will come for her.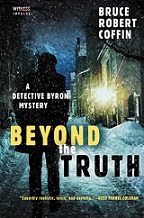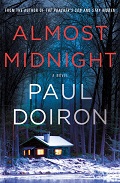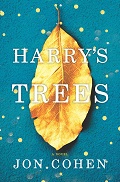 Beyond the Truth, a Detective Byron mystery by Bruce Robert Coffin   $11.99   isbn 9780062569530

     This 3rd book by retired Detective Sergeant Coffin, is a powerful good read. The story takes place here in Portland, with engrossing detail on the police investigation, uncovering layers of crime: robbery, drug dealing, and the shooting of a teenage basketball star.  When an attempt is made on life of the police officer who shot him, Byron shifts into overdrive. Was the attack merely retribution or something more sinister? Stir in the twisted political issues and you have a recipe for intrigue!
Almost Midnight, a Maine Game Warden mystery by Paul Doiron  $27.99   isbn 9781250102416

This newest thriller has a chilling start with Mike Bowditch's good friend involved with murders in the Maine State Prison and the news that Shadow, the wolf-dog Mike cared for when he was a pup, was shot with a cross-bow bolt. With fine description of the natural beauty of the Maine woods.The death of Maine's last wild wolf leads Bowditch to a criminal conspiracy. The warden already has a troubling mystery on his hands: finding the archer who mortally wounded Shadow. Then he learns his best friend, Billy Cronk, has been released from prison after heroically defending a female guard from a stabbing. When the conspirators pursue Billy's wife and children to a "safe" cabin in the woods, Mike rushes to their defense only to find himself outnumbered, outgunned—and maybe out of options.
I love these Maine game warden mysteries. Doiron gives us plenty to enjoy with his descriptions of the natural beauty of the Maine woods, and the cleverness, kindness & trust of Mike's friends and co-workers.
Harry's Trees: A Novel by Jon Cohen      $16.99  isbn 9780778308829

A govt office worker who lost his wife.  An ER nurse whose husband died.  A little girl who sees magic everywhere.  This is a tale of love and loss.  It's funny, spiritual and thoroughly enchanting.  Just what we need in these turbulent times.
Compare to AJ Fikery and A Man Called Ove.
******************************************************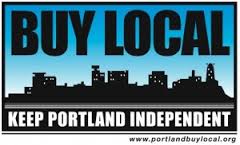 "Put down the mouse and shop near your house!"
Thanks again for your enthusiastic welcome. Every day our customers tell us they prefer to BUY LOCAL so thank you for supporting your neighborhood bookstore. Word of mouth recommendations for Letterpress helps us to expand and continue to serve your community. 

Letterpress Books is family owned, a member of the American Booksellers Assoc., & Portland Buy Local. 

"A mind needs books as a sword needs a whetstone, if it is to keep its edge."   George R.R. Martin
We appreciate your business!

Kath, Karen & John Paul