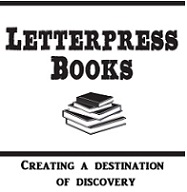 Consignment Information
Independently published books are taken on a consignment basis after review by our staff.  If your submission is accepted, we require a basic handling fee of $25.00 to place your book on our shelves.
Please contact us with information about your book at [email protected] or mail us information along with a copy of your book for review.  No phone calls or walk-ins please.
Our mailing address is: Letterpress Books, 91 Auburn St., Suite K, Portland, ME 04103
Please be aware that we have a limited number of consignment spaces available and this may affect our decision regarding your book.  If your book has recently been or is about to be reviewed or discussed in a local paper or periodical, be sure to inform us as this may also affect our decision-making process.
Letterpress Books requires that consignment books meet the same high standards as the rest of our book inventory. They must be proofread and free of typographical errors. We will review each submission and decide if it is right for our bookstore. Books that have a considerably higher price point than others in their category will be rejected. If you are working with a distributor, such as Ingram, or a local entity, such as Maine Authors Publishing, please be sure to let us know.
Consignment Policy
Letterpress Books will initially take 5 copies of your book for a consignment period of six months, reordering as needed.  If no sales occur, the books will be returned to the consignor, who must arrange for pickup or shipping at their expense.  Books that are unclaimed after 30 days will be donated to a charity.
At the end of the consignment period, if partial sales occur, the book will be re-evaluated and the decision made whether to continue stocking it. Number of copies sold is only one of the factors that we consider when making this decision.
The consignor is responsible for setting the retail price of their books. Letterpress Books pays 60% for consignment items sold and retains 40% as a sales commission.
Handling Fees
These fees cover promotional costs comparable to those covered by traditional publishers. Please supply us with a high-resolution image of the book cover, an author biography and any praise for the book. These will greatly improve our ability to market your book.
Level 1 - $25.00 – payable when we receive your book for stocking, this includes a face-out placement of your book on our "Local Authors" shelf at the front of the store and a feature on our "local authors" web page for at least 1 month, plus a searchable listing on our web site.
Level 2 - $75 – Includes everything from Level 1 plus one scheduled event in the store, event publicity via in-store displays, social media and our store email newsletter.