INDEPENDENT BOOKSTORE DAY!
       Saturday April 27th
       CHRIS VAN DUSEN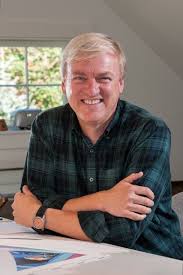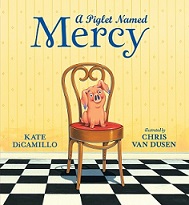 Meet our favorite Maine Author/Illustrator
He will be signing his newest book Saturday morning
10:00 AM - NOON
A Piglet Named Mercy, by Kate DiCamillo & Chris Van Dusen
Mr. Watson and Mrs. Watson live ordinary lives. Sometimes their lives feel a bit too ordinary. Sometimes they wish something different would happen. And one day it does, when someone unpredictable finds her way to their front door. In a delightful origin story for the star of the Mercy Watson series, a tiny piglet brings love (and chaos) to Deckawoo Drive — and the Watsons' lives will never be the same.
Every porcine wonder was once a piglet! Celebrate the joy of a new arrival with this endearing picture-book prequel to the New York Times best-selling Mercy Watson series.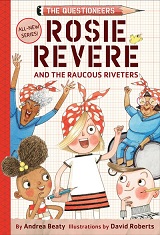 Presenting The Questioneers

New chapter books by Andrea Beaty, illustrations by David Roberts
Rosie Revere and the Raucous Riveters: The Questioneers Book #1
 A spirited story about the power of teamwork and the true meaning of home. Rosie Revere is no stranger to flops and fails, kerfuffles and catastrophes. After all, engineering is all about perseverance! But this time, Rosie has a really important project to tackle—one that feels much bigger than herself.

Rosie's beloved Aunt Rose and her friends, the Raucous Riveters—a group of fun-loving gals who built airplanes during World War II—need help inventing something new. And Rosie is just the engineer for the job! After one flop . . . then another . . . Rosie starts to lose hope. But thanks to some help from her fellow Questioneers Iggy Peck and Ada Twist, Rosie gets the job done. And, along with the Riveters, she rediscovers the meaning of home.
                Read. Question. Think
Ada Twist and the Perilous Pants: The Questioneers Book #2
Ada must rely on her curious mind, her brave spirit, and her best pals Rosie Revere and Iggy Peck to solve a mystery in her own backyard.

Ada Twist is full of questions. A scientist to her very core, Ada asks why again and again. One question always leads to another until she's off on a journey of discovery! When Rosie Revere's Uncle Ned gets a little carried away wearing his famous helium pants, it's up to Ada and friends to chase him down. As Uncle Ned floats farther and farther away, Ada starts asking lots of questions: How high can a balloon float? Is it possible for Uncle Ned to float into outer space? And what's the best plan for getting him down?

Thank Customers with Free Audiobooks on Independent Bookstore Day