Kate Winn is a painter from South Portland, Maine. Her acrylic work is
exhibited at Hole in the Wall Studioworks in Raymond, Maine, in The Field
Gallery on Martha's Vineyard, and in the Elizabeth Moss Galleries in Falmouth,
Maine.  And now you can view Kate's paintings at Letterpress Books!
      "I treat my landscapes more like portraits than snapshots of a place," explains Kate. We all see the world through the colored glass of our particular experience, and it is important for me to tell the part of the story that sometimes needs time to form."
 http://www.katewinnstudios.com/exhibitions/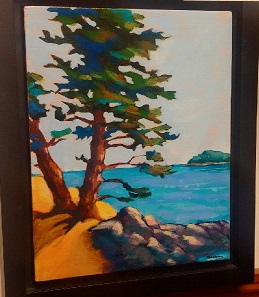 SOLD